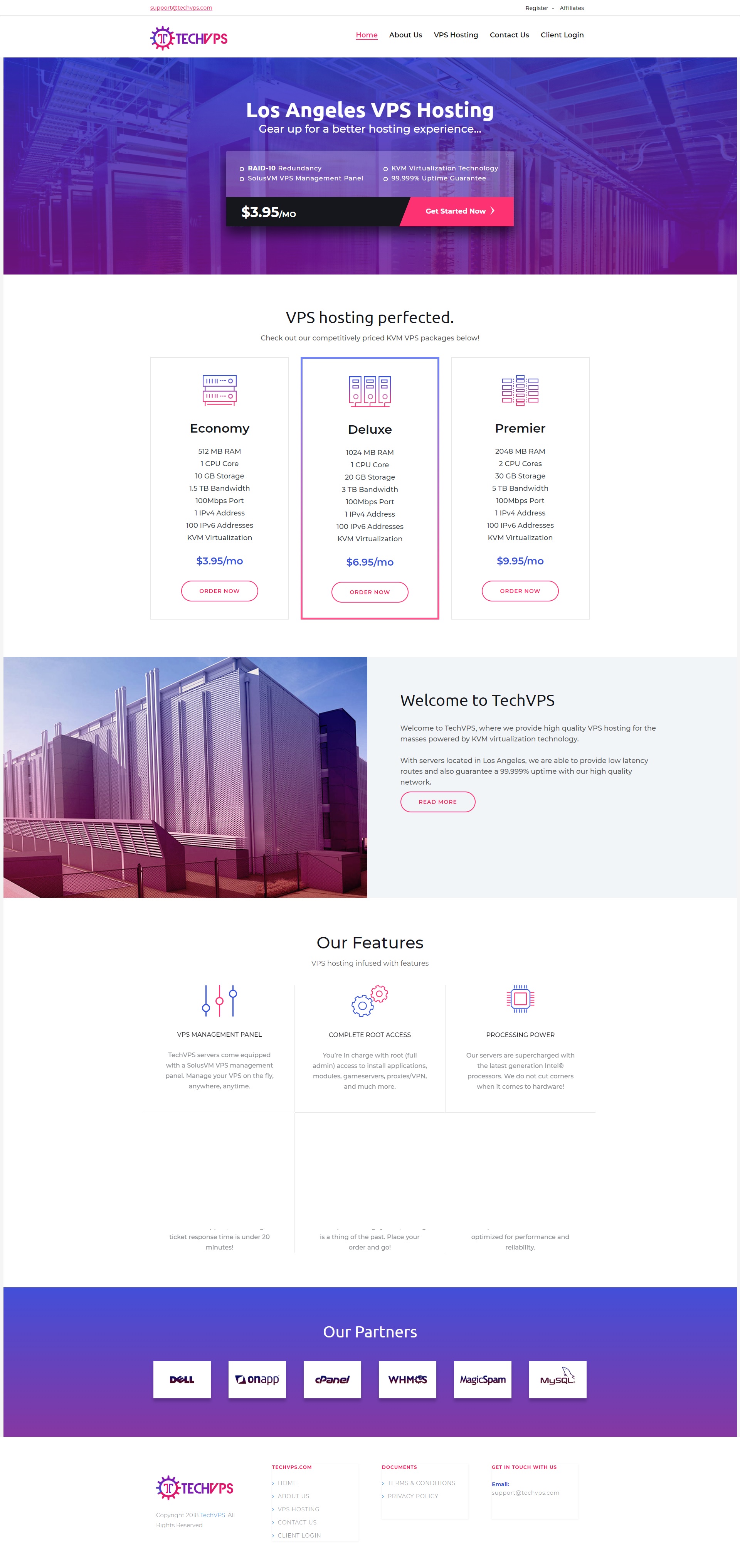 John from TechVPS has sent over some KVM VPS offers for us to share with you all! Their previous offer on here received some positive feedback from users of the community, so we hope you enjoy what they have to offer this time around! They are offering KVM VPS services out of Los Angeles.
Their WHOIS is public, and you can find their ToS/Legal Docs here. TechVPS supports payment through PayPal/Credit Cards, Alipay, Bitcoin, Litecoin, and Ethereum.
Here's what they had to say:
"TechVPS is an infrastructure hosting provider comprised of a team of developers who are on a mission to improve the internet. All of us here at TechVPS are a lot like you – making it easier to understand what you need. We are a company that is here to stay, inspiring change in the ways that we fulfill our customer's needs. With our state of the art datacenters – TechVPS has the resources to meet all hosting needs."
Here's the offers:
** LEB BONUS: FREE Upgrade to 1Gbps Port for any order! Open a support ticket after you've completed your order to claim your free upgrade. **
512MB KVM VPS

512MB RAM
1 CPU Core
10GB RAID-10 Storage
1TB Bandwidth
100Mbps Port
1x IPv4
30x IPv6 (upon request)
SolusVM/KVM
Docker Supported
$ 14/yr
[ORDER]

1GB KVM VPS

1024MB RAM
1 CPU Core
20GB RAID-10 Storage
3TB Bandwidth
100Mbps Port
1x IPv4
30x IPv6 (upon request)
SolusVM/KVM
Docker Supported
$ 18/yr
[ORDER]
NETWORK INFO:
Los Angeles, California (QuadraNet Datacenter)
Test IPv4: 69.12.66.26
Test IPv6: 2607:fcd0:0:a::2
Test file: http://repos.lax-noc.com/speedtests/100mb.bin
Host Node Specifications:
– 2x Intel Xeon E5-2650 CPU
– 128GB RAM
– 4x 2TB Enterprise HDD's
– Hardware RAID10 with BBU
– 1Gbps Uplinks
Please let us know if you have any questions/comments and enjoy!
The post TechVPS – 512MB KVM VPS for $ 14/year & more in Los Angeles! (Docker Supported) appeared first on Low End Box.